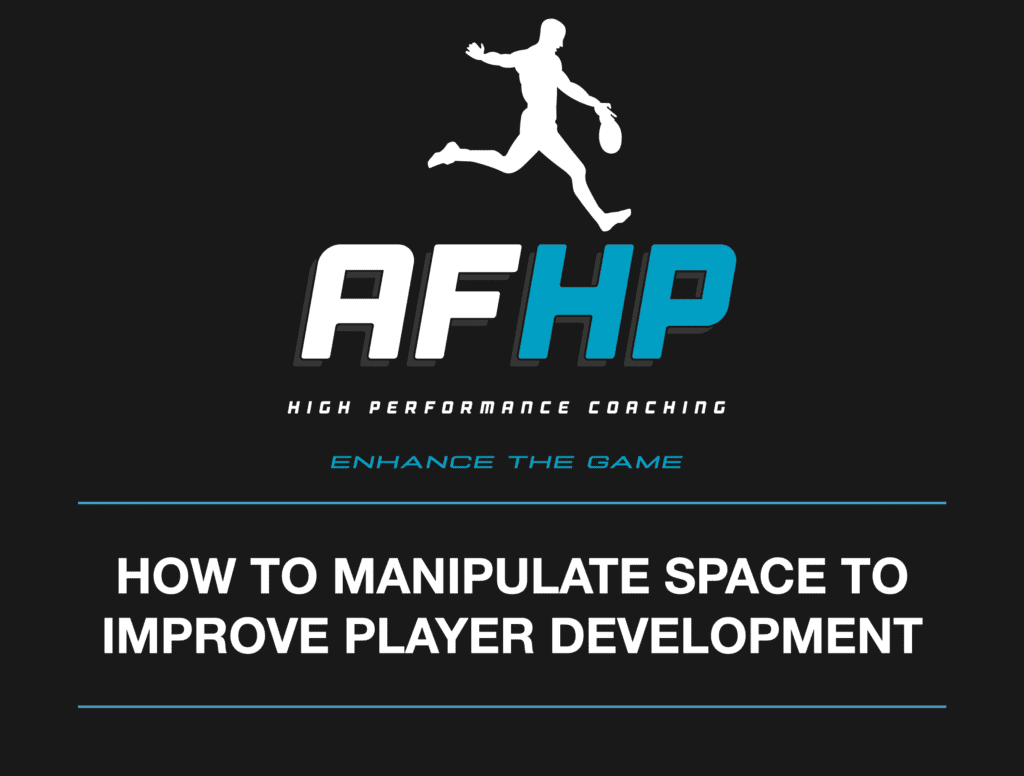 All coaches and teachers have different activities with a variety of playing size areas that are critical to the function of the activity. But have you, as a coach, considered modifying the space to prioritise skills of different playing types?
By space, we mean the area you use to complete your activity, but you can adjust your space by changing its size, shape, dimensions, or by adding different markings or zones.
In this article, our analysts show the benefits by exploring the ways coaches can use different ways to manipulate space, playing area sizes, markings and shapes.
Why is this relevant?
Well, the area that you provide your players will give different returns. If you haven't yet considered changing space and sizes, you seriously should as different size playing areas create more opportunities for specific skills to be developed.
As part of Sigrid Olthof's research within soccer, coaches tend to go with smaller areas. These smaller areas allow coaches to increase 'intensity' and help coaches to have more control of the session. However, these smaller areas don't necessarily allow for players to gain experience on the field size they would be exposed to on match day. Coaches who explore the differences in small, medium, and large pitches will have a better understanding of what returns they get from different areas.
The obvious examples are that smaller spaces encourage handballs and larger spaces encourage kicking. But you can be more specific by modifying the space and shape of the activity to increase the speed of development.
Here are some points for you to consider when your training next:
Activity changes
When you change something, it always affects something. We need to understand what different changes make to know if we are progressing or regressing a challenge within a scenario-based activity.
Sizes
Small spaces
England Football Learning states "these areas give your players less room to move around. This creates a high-intensity game with lots of ball contact and physical contact. Less space also encourages moments of transition (where possession moves from one team to the other)".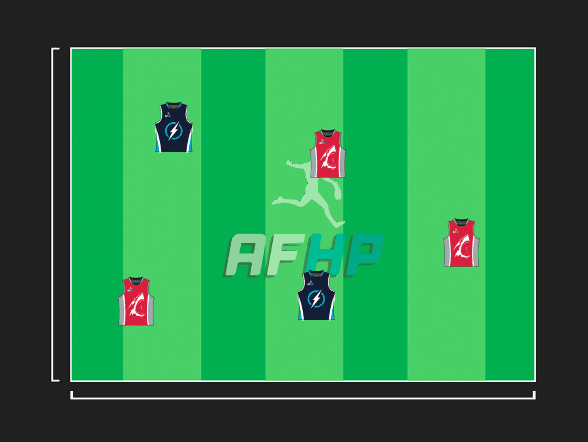 Small spaces are a great choice if you want players to work on the following skills:
High amounts of transition games
Using their body to protect or win the ball or a contested possession
Quick decision-making
Evasive and tackling skills
Defensive skills
Smaller spaces often suit defences because there are less options for the team in possession to kick the ball into space and to a teammates advantage. It is also easier for the defence to close down and handover between opponents due to the space being smaller giving them less ground to cover.
Small spaces are a great choice if you want players to work on the following strategies:
Contest strategies
Fast ball movement and overlap
Defending fast ball movement
Handover and pressing
However, it's important to know that small spaces can be a challenge for new players. A tight area also means the ball will go out of bounds a lot, higher amounts of turnover, favouring defences or contest teams, and your team might get tired quickly.
Large spaces
These areas give players more room to move around, evade opponents, generate overlap ball movement and extra time to make decisions.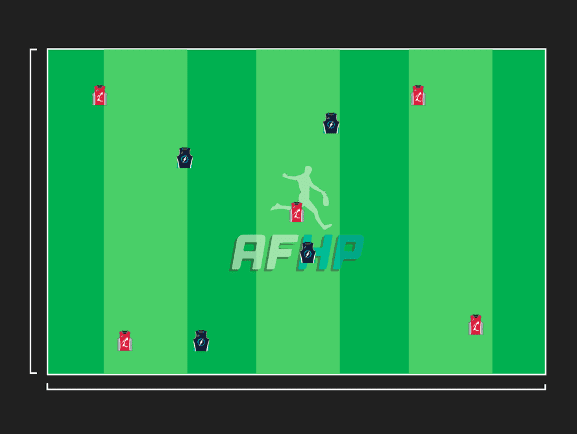 Larger spaces often favour offences because they can pass to their teammates advantage, along with shifting defences around the ground, create pockets of space where they can generate overlap and exploit teams with forward handball into space. 
Larger spaces are a great choice if you want players to work on the following skills.
Running with the ball
Long-distance passing and movements
Spoiling and intercepting
Marking
Uncontested possession
Larger spaces are a great choice if you want players to work on the following strategies.
Switching
Lengthening
Handball receives
According to England Football Learning, "compared to small spaces, teams experience lower levels of physical contact and fewer moments of transition. They may also feel less involved in the game."
To read further information about sizes, density, shapes, margins and applying the changes into practice contact us to sign up to one of our memberships to gain access to our coaching resources filled with the remainder of this content and many alike it.
If you are seeking new ideas for any phase, strategy, or skill of the game we have over 200+ drills with video animations and infographics to equip the modern coach with resources to cater for any playing group. Find out more at https://afhpcoaching.com.au/ or contact Austin Stubbs via [email protected] or 0499 883 158.