From grassroots football to the professional level a coaching philosophy is highly recommended for coaches, many coaches have a coaching philosophy that covers a range of topics explaining their beliefs and opinions they will stand by for the situations they may encounter.
From my experiences of coaching from community to professional sport, reading over coaching philosophies and studying coaching principles and philosophy at university, skill acquisition is a topic that rarely seemed to be mentioned until I reached the professional sporting industry.
I personally have found it rather surprising considering training is one of the many tasks you spend planning and applying your time to the most. Wait hold up! Let's talk about what skill acquisition really is and what it means?
This is really important for players and coaches to understand where they can develop.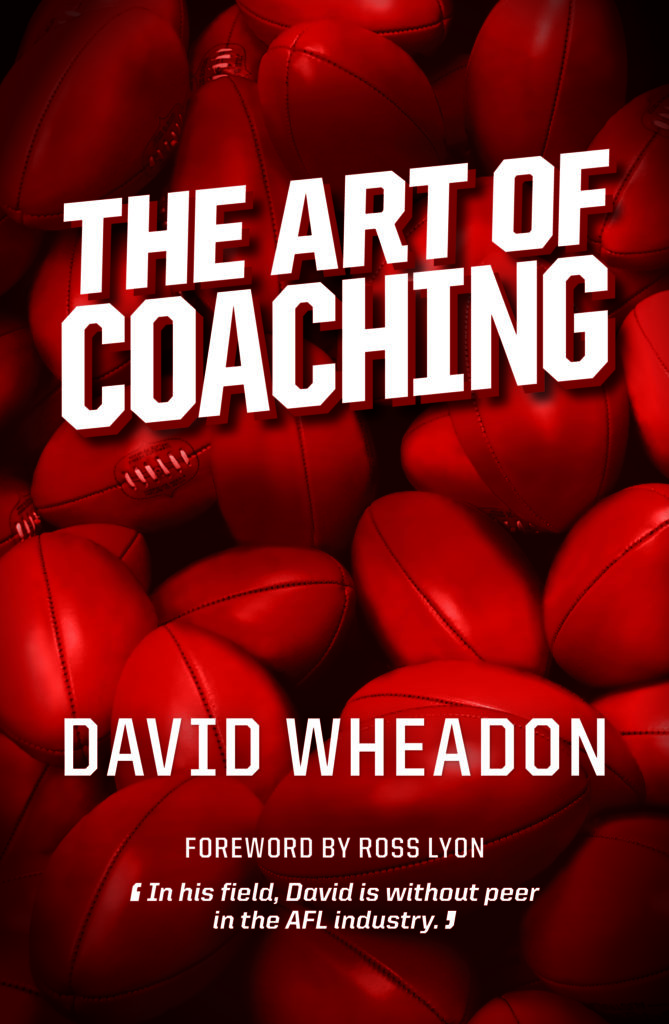 Acquisition of skill is a type of learning in which repetition results in enduring changes in an individual's capability to perform a specific task. Any behaviour that needs to be learned and that is improved by practice can be considered to be a skill.
In other words, "The ability to enhance the training and playing performance of a team or of an individual through learning and repetition".
Matt Goodyear, a psychologist and a former AFL player shared his philosophy with me after I spoke to him about this study. "Whilst there is a difference between talent and skill from the community level to the professional level, there is no reason why a skill acquisition training method like this, can't be applied at both levels".
Many skill acquisition coaches have different philosophies, but what they all share in common is that they find effective methods to improve the learning process of a player's ability to perform and play the game.
This is why Improving the learning process, the training environment and your skill acquisition philosophy is critically important as a part of your coaching philosophy, as it is partially held responsible for your teams performance across the season.
Now let's go back to the start, do you have a skill acquisition philosophy? Whether you do or not, a way to test your philosophy and see how strong it really is, is by analysing the way you train compared to the way you play.
Does your training simulate the way you want to execute your attacking and defensive strategies as a team on game day? Do you train the situations you may encounter in a game during training? How do you improve the development of your players and what do you encourage them to focus their individual craft on?
A philosophy of David Wheadon's that I agree with, "The transfer of practice to the game depends on the extent to which practice resembles the game".
A process to do this is by breaking up the components involved in training, if you are wondering how to do this follow our guide below.
What is the bulk of your training based around?
Technique development?
Decision making training?
Game sense training?
Technique breakdown?
Upon reflection have you found that your team practices the majority of the training sessions on technique development, such as 5 star handball, Lane work kicking, Bow tie kicking, Three-man weave? Do you incorporate some decision-making drills? Have you trained team defence or tackling recently?
One of many of David Wheadon's great philosophies "A Good decision can cover a less than ideal technique, but rarely can a poor decision be covered by a good technique".
"The best players in football are the smartest as long as the technique is not baggage and it gets the job done. The best players are not necessarily always the most technically gifted, athletically gifted or even the mostt physically gifted, but they make the best decisions according to their capabilities."
Many coaches believe technique is the issue in a players game when they have a poor performance or moment. No doubt every player does have some technical vulnerabilities, but more often than not it is the decision making that is the issue. "I have the philosophy if I can find a way for a player to create more time for themselves, then they should have time to execute technique."
Do you remember the quote train the way you play? It's easy to get lost in those words and think let's just do match simulation training. The philosophy I use instead is "Prioritise the concepts of how you want to play".
Now what will you prioritise? What training styles will you train? What concepts will you introduce that replicate the way you want to play?
Marc Sophoulis, founder of MITS (Melbourne international tennis school) and is the director of coaching at Richmond VFL once said to me "What is the purpose to your practice?"
A skill acquisition philosophy of mine is that "People enjoy their learning the most when they are having fun, its competitive and they have to think about it and when they have guidelines to make their own decisions. Technique development does not allow them to make decisions according to a defender, which most of your decisions are based upon during a game."
"Give freedom within discipline" to your players to assist them in making their decisions in offence. "Players want to play with flair and creativity, not instruction as instruction can be very predictable, but guidelines are not."
Another philosophy of David Wheadon's "Training should not be just a repetition of a problem, but a repetition of possibilities of solving the problem". Good training comes about by creating a problem for the players to solve whether it is an offensive or a defensive challenge to overcome.
Technique development needs to be trained, but you need to make a decision before executing a technique, you have to decide when is the right time to use a technique. So you need to train decision making training and technique development to teach players both of their Importance.
One of my favourite philosophies from David Wheadon was "Because a decision always comes before a technique, teach decision making first and technique second (but not secondary)". Teach technique in the context of making a decision or solving a challenge.
I have heard many people say "He can't kick" but the player is actually technically okay, it was the poor decision he made is why the kick was not executed correctly. Coaches need to identify errors and skill acquisition coaches need to identify how the training can be enhanced.
When we have visited different football clubs across Victoria we have found that almost every coach prioritises decision making training and technique development. With less of an emphasis on game sense training and technique breakdown. Most senior teams seemed to train match simulation towards the latter half of pre-season, but they don't have well planned game plans to train and execute strategies during match simulation training.
"Strategies complement skills because they assist players in making decisions, this is by allowing players to become more predictable to one another".
"Strategies will not guarantee a win but it will increase your chances."
If you are interested in learning more about creating AFL game plans using skill acquisition coaching methods, then enrol into this course. Created in partnership with AFL Sports ready and on behalf of the AFL Coaches Association these coaching courses are industry recognised, they are for coaches from all levels from Juniors to the AFL.
If you train decision making training a lot and your reading this thinking I do that all the time? My question for you is how is your decision-making drills replicating the game? Do the decisions your players make in those drills commonly occur? Does that situation happen often? Is the drill replicating your style of play? Are the players making decisions according to the way you want to attack and defend in those drills? Or can you create or find another drill that trains decision making repeating the same common situations over and over again?
A very big hint towards creating strategy for a game plan was just given away. Can you figure it out?
If you haven't here is another hint. A philosophy of David Wheadon's "Identify the most common situations that happen in a game of football and rehearse ways to overcome the challenges involved in each situation".
Ben Rutten is someone I find very fascinating, Ben and John Worsfold are both experts in coaching and skill acquisition, they are really well supported with an intelligent coaching group. In my opinion he applies the same philosophy as what David Wheadon uses in the quote above. Ben applies simplicity to strategy, which is very effective for players learning this. But what made it work so effectively, was that he applies an implicit teaching style.
Remember part of training is about improving your players ability to play the game. From a strategy point of view it is about improving your players ability to make instantaneous and instinctive decisions in common situations that occur.
My sixth philosophy of David Wheadon's "The best players in football are the smartest as long as the technique is not baggage and it gets the job done. The best players are not necessarily the most technically gifted". I believe that they do make the best decisions according to their ability.
Soccer is renowned for its skill acquisition coaching and their decision making training, it is the most popular sport in the world, therefore there are many more coaches and players of the game compared to other sports so the skill acquisition knowledge is very advanced. Liverpool manager Jürgen Klopp's philosophy in soccer which applies to all field sports with a goal at either end is really interesting, he believes "It's about a players natural game, the more you do with the ball, the more you play with the ball, the better you will get. From the age of 10 every world class player has been given a ball and is starting to get familiar with it. The first touch gives you plenty of time as a player to see what is around you, if you need 5 seconds to control this thing of leather then everything has changed already around you. Do this first, when you have this you can use the pitch and learn all of the rest".
In relation to Australian rules football, Jürgen Klopp believer's that the ability to be clean with the ball and developing this from a young age will give you more time in the future to improve your ability to make faster decisions.
Before a player takes possession in any team sport, they scan their surroundings to see where the opponents are, where their teammates are and where the space is. If you take the ball cleanly and can control it you can then make decisions according to your surroundings that you are already familiar with.
Jürgen Klopp prioritises touch over decision making, but decision making over technique.
If you are assessing the skill of a player in possession, the player must have the ball before they can make a decision to pass it, therefore they must catch and control the ball before the decision Is made.
In 2019 I went to the World Congress of Science and Football which was hosted in Melbourne, where a very interesting study was presented about decision making. The study was taken over the course of a year, every player in the English premier league was filmed closely, they analysed the movements of the players' heads before taking possession. The research from the study indicated the world's best soccer players scanned their surroundings 6 times every 10 seconds before taking possession, an average player was scanning three times in 10 seconds at the professional level.
Any form of training that allows players to scan their surroundings in a 360 degree field sport will improve their ability to scan and make faster decisions.
If your players can read the cues of a common situation at the same time, they will have learnt how to identify the strategy that you have trained that now needs to be executed, it will allow for your players to make consistent decisions according to one another. Which will give you a massive advantage because all of your players are on the same page trying to work together as a team to execute the same concept at once.
John Worsfold once said "The definition of leadership is providing clarity because that gives you alignment in a team".
So provide clarity of the concepts and the roles within them that you introduce, then you will have the players aligned more often so you out play and outsmart the opposition.
David Wheadon says in his book the Art of Coaching "When your team takes to the training field you want the best possible learning environment, not the best possible performing environment".
Ryan O'Keefe once said to me "Discovery is the best form of learning".Let the players find their way in the decision making activities. 
The coach, through implicit teaching, by asking questions, dropping hints and suggestions will make the player the centre of the learning rather than the coach the centre of the teaching of skill. Learning is more important than teaching. "Be a guide on the side, not a sage on the stage". Discovery trumps information.
Finally, a philosophy of mine, "is that technique development is essential in a players development and it needs to be trained all of the time but, players do make more decisions than execute technique in a game. At training prioritise the concepts of how you want the team to play and teach the players to make decisions according to the concepts".
"Remember a skill is not a technique, it's a decision first and then a technique"
The secret, is create a strategy according to the most common situations players and teams face during a game, but the challenge is how you apply your skill acquisition philosophy during your training so the team can execute your strategies. My philosophy which has all of the information in this article and more has been trialled at community level and It has proven to be successful.
Now the question is, what is your skill acquisition philosophy and how will you now look to enhance your training in the future?
Thank you to my friends, former colleagues and mentors for being a soundboard through my studies. Tim Buszard, Ben Rutten, Blake Caracella, Ryan O;Keefe, Simon Black, John Worsfold, James Kelly, Mark Harvey, Clinton Young, Andrew Dawson, Sean Kavanagh, Darren Crocker, Dean Laidley, Andrew Toop, Bryce McGain, Marc Sophoulis, Matt Goodyear, Donald Mcdonald and David Wheadon.